Climbing Shoe and Walking Boot
+ Resoles +
+ Climbing Shoe Repairs +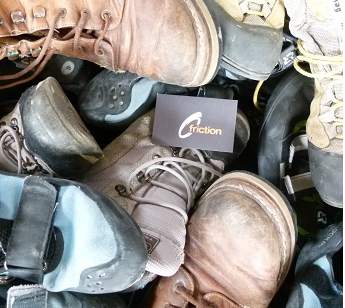 ---
Frequently Asked Questions on Climbing Shoe Resoles
Why have my climbing shoes repaired instead of buying new ones?
This is a cost-effective alternative to having to buy a new pair of climbing shoes. A further advantage is that if the shoe is still in good condition, it will retain that perfect shape, perfectly molded to your foot. Hence, we recommend having your shoes resoled.

When should I consider having my shoes resoled?
Resoling should really be considered when the toecap is still undamaged – before small holes begin to appear – and when it becomes evident that the sole of the shoe is worn through, that is: i. you clearly begin to feel the footholds with your big toe, ii. there is reduced stability on the edges of your shoe rand, iii. you slip off the footholds, iv. the rand of your sole is distinctly visible.

Is it possible to have just one climbing shoe repaired?
No, unfortunately not. We always recommend having both shoes repaired, regardless of the state they are in. One of the main reasons for doing this is to ensure that both shoes have the same level of performance.

Is it possible to repair No-Edge climbing shoes?
Of course it is. The sole of No-Edge climbing shoes includes the toecap. Therefore, the resoling of No-Edge climbing shoes means that the toecap and sole are renewed together in one.

Is it possible to just have the toecap repaired?
No, unfortunately this is not possible. The rand of the climbing shoe can only be repaired together with a new resoling. The reason being that to be able to repair the toecap, we have to lightly grind down the rand first. Consequently, the sole of the climbing shoe has to be replaced.

Can climbing shoes with holes in them still be repaired?
Of course they can! Climbing shoes with small holes in the toecap are totally repairable, as long as the leather is still visible.

What happens to the tension in my shoes once resoled?
The tension of your climbing shoes can be brought back if and when your climbing shoes are being professionally resoled.

Can climbing shoes be resoled more than once?
It depends. Send us pictures of your climbing shoes by email. We will let you know whether it makes sense to send us your shoes for repair.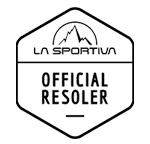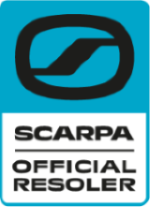 ---
ofriction
Olaf Herrenkind
Sonthofener Straße 3
87545 Burgberg im Allgäu
Germany

tel: +49 (0)8321 676 2169

service@o-friction.de

---
Imprint
Inhaltlich Verantwortlicher gemäß § 5 Abs. 1 Nr 1 TMG
Olaf Herrenkind (address as above)